Exclusivity
Marrakech - Medina
Riad
251 m2
Italian mood Riad
4 suites of which 2 generous master suites
Full of charm and generous volumes
Heated Floor
750 000 €
Price E.A.F (Excluding Agency Fees)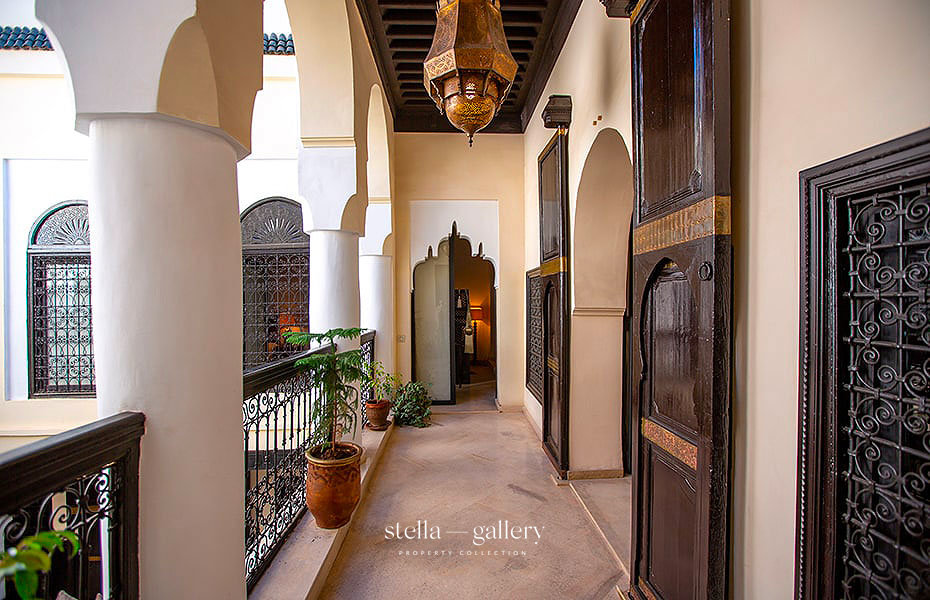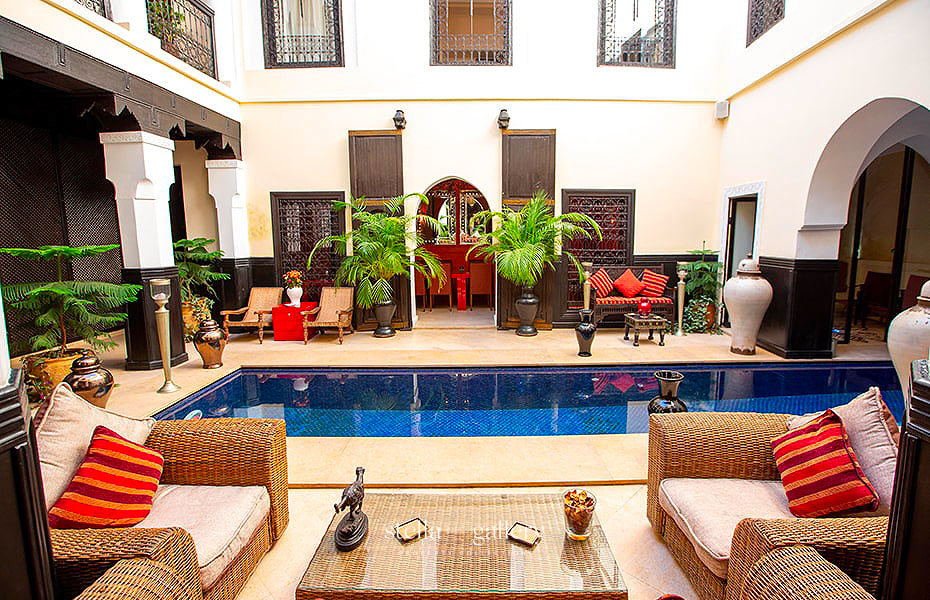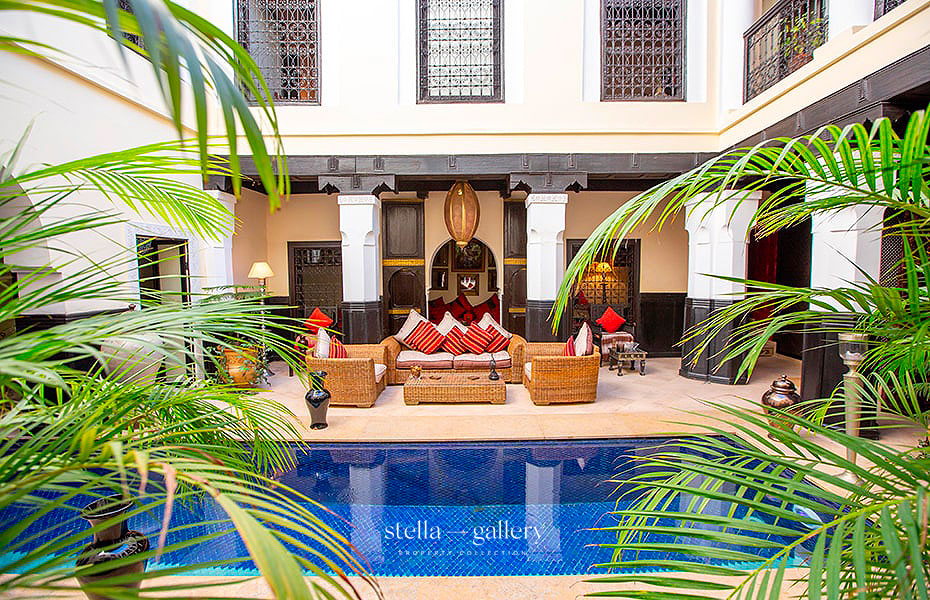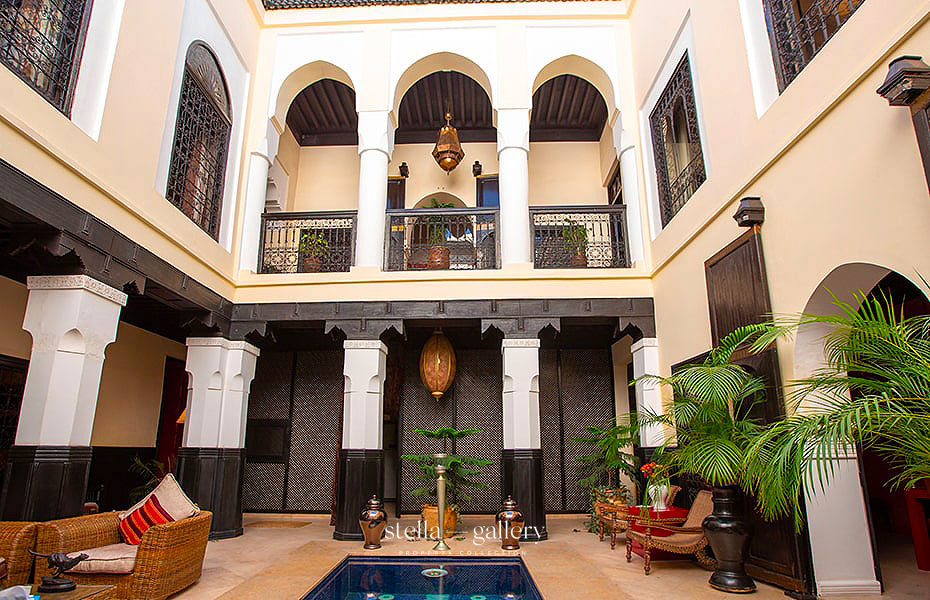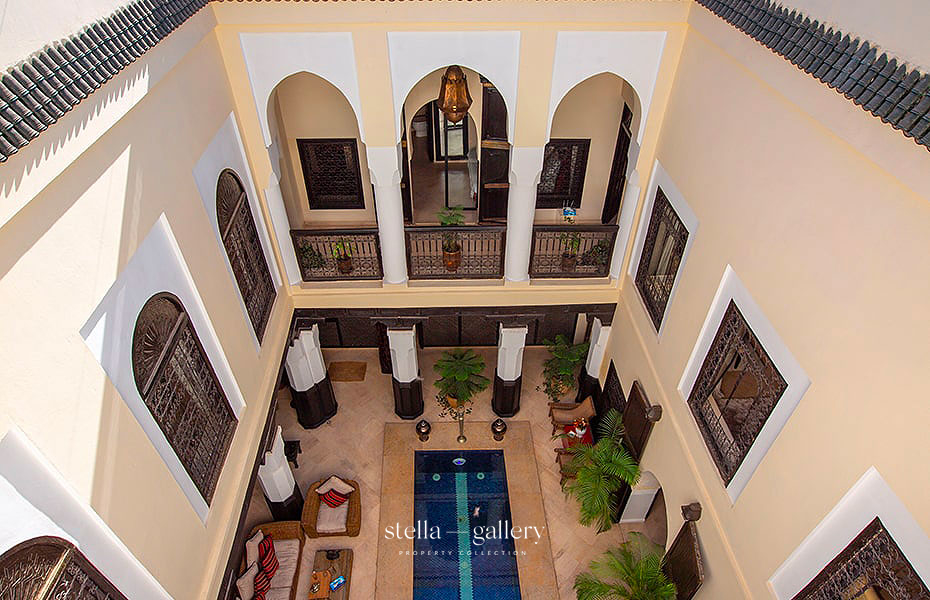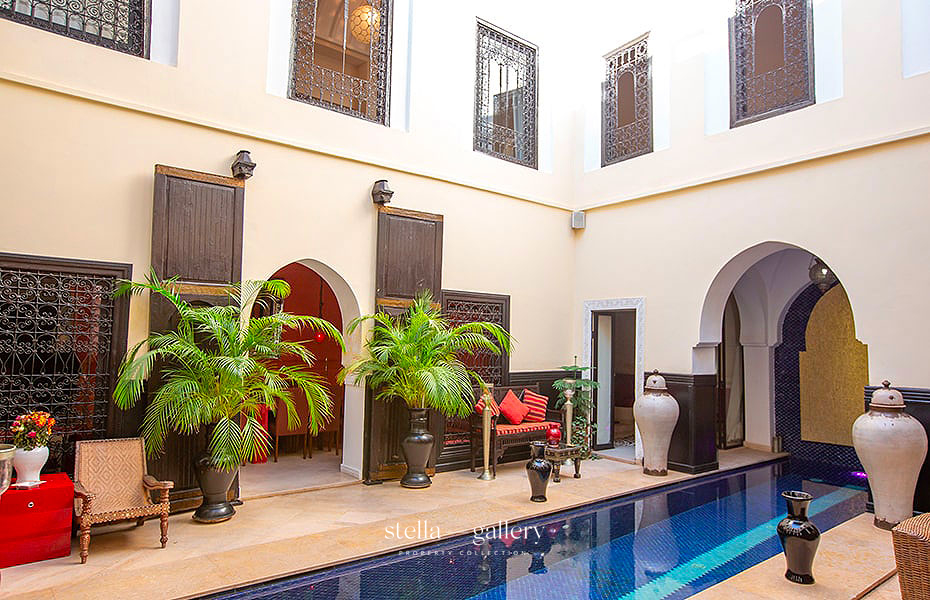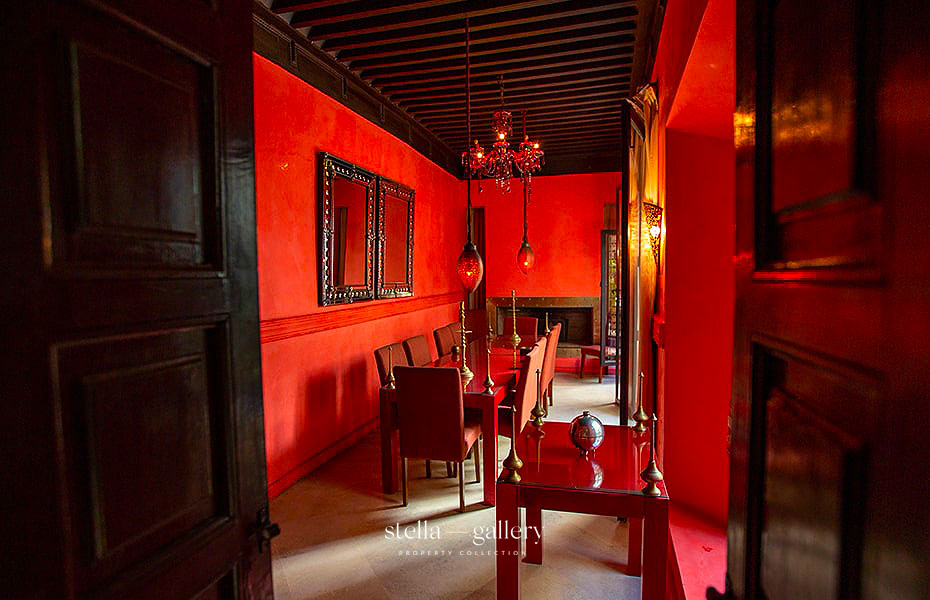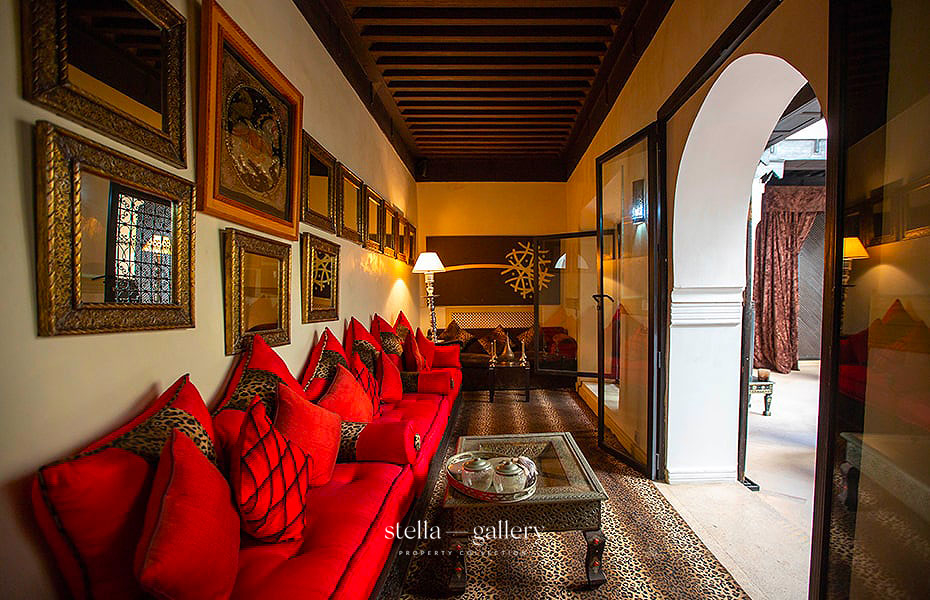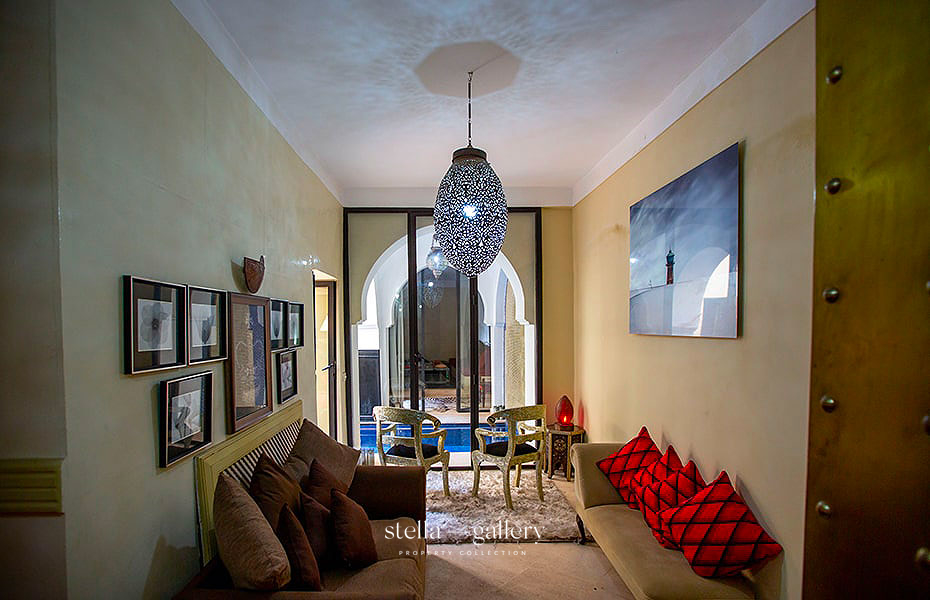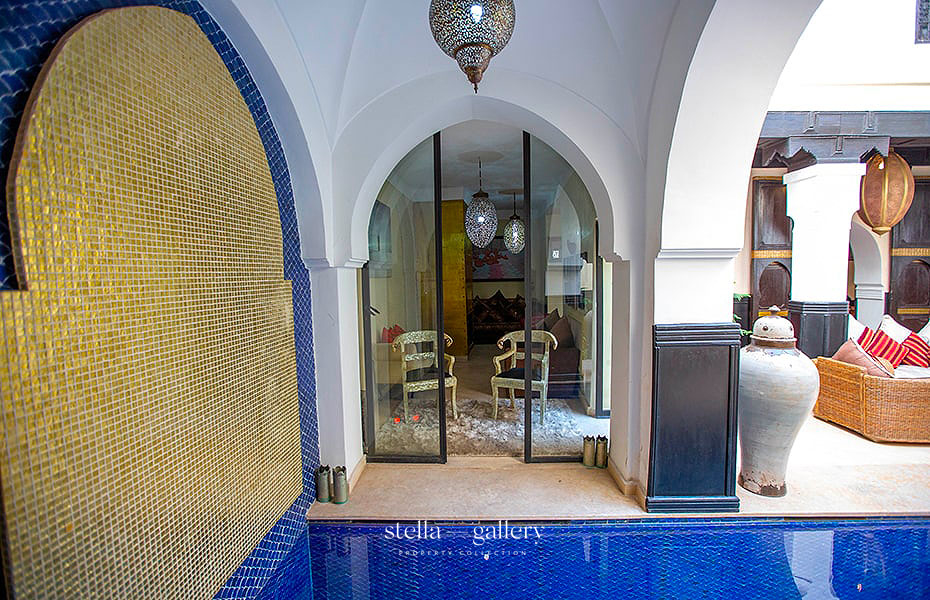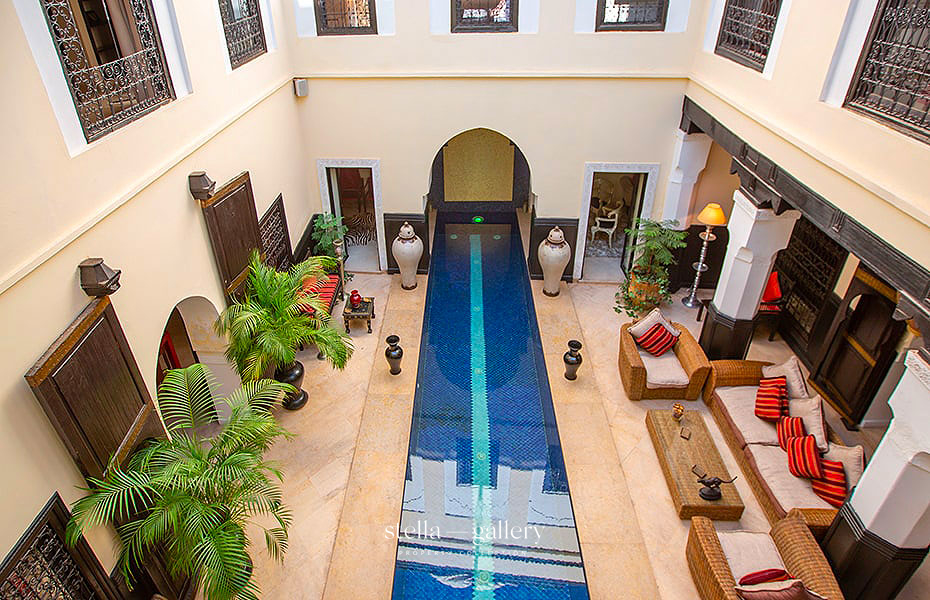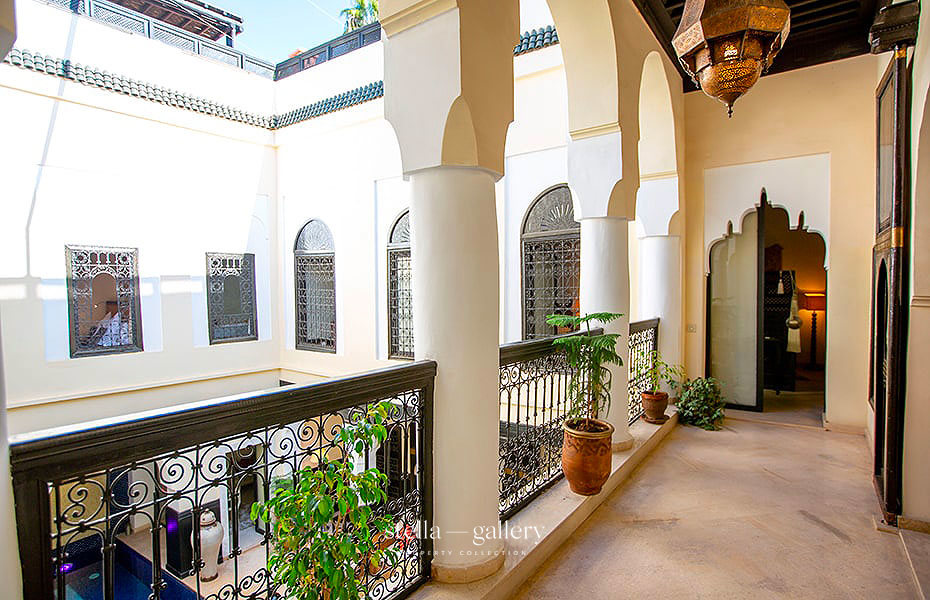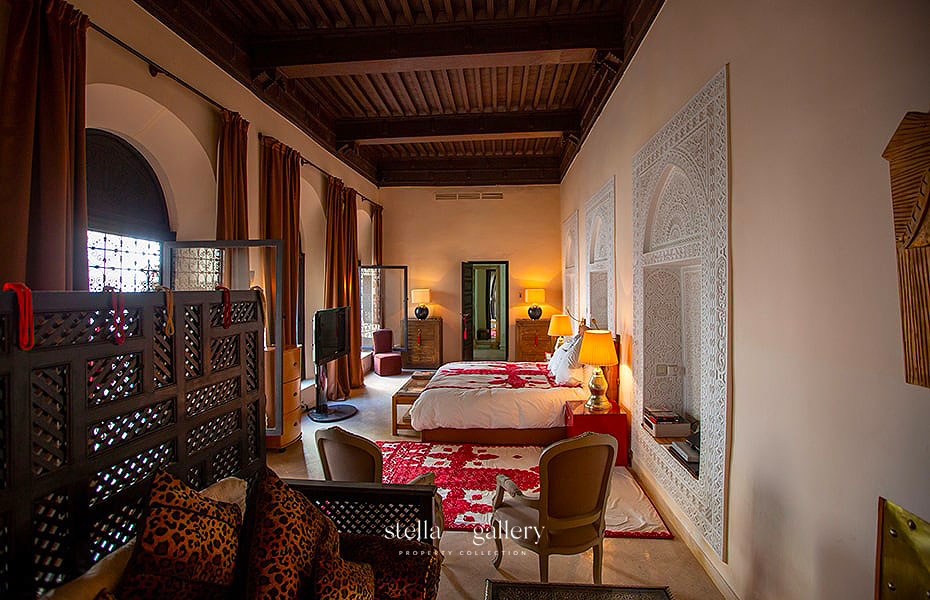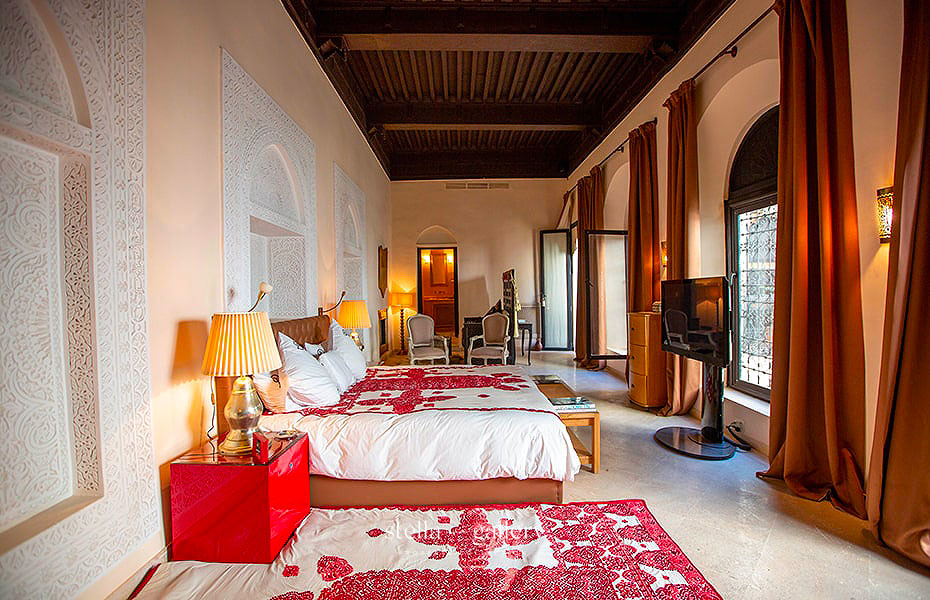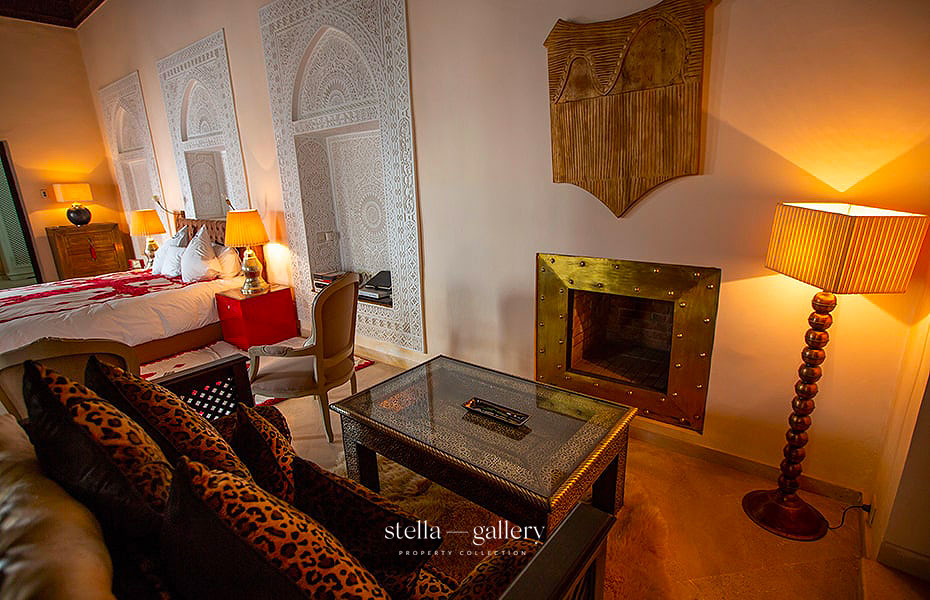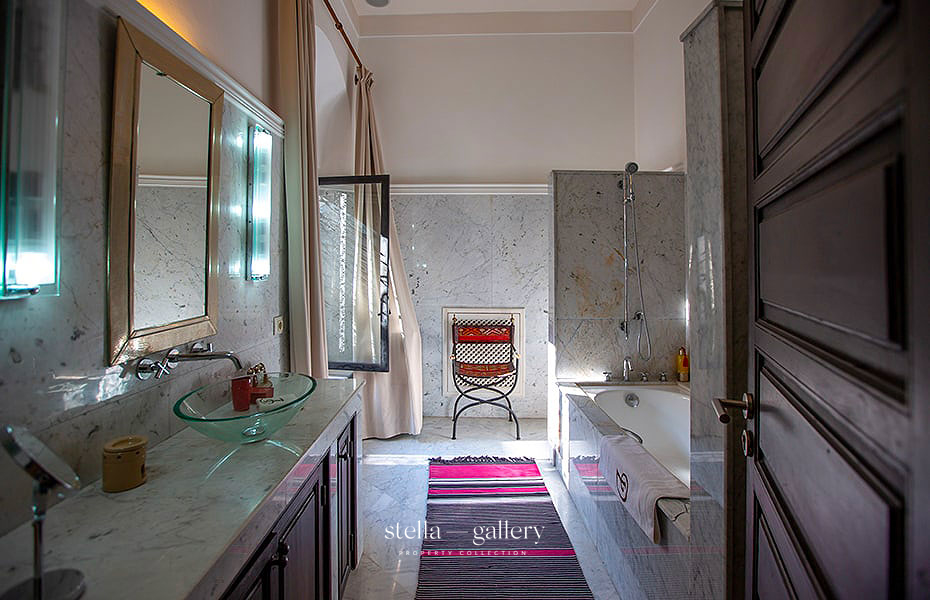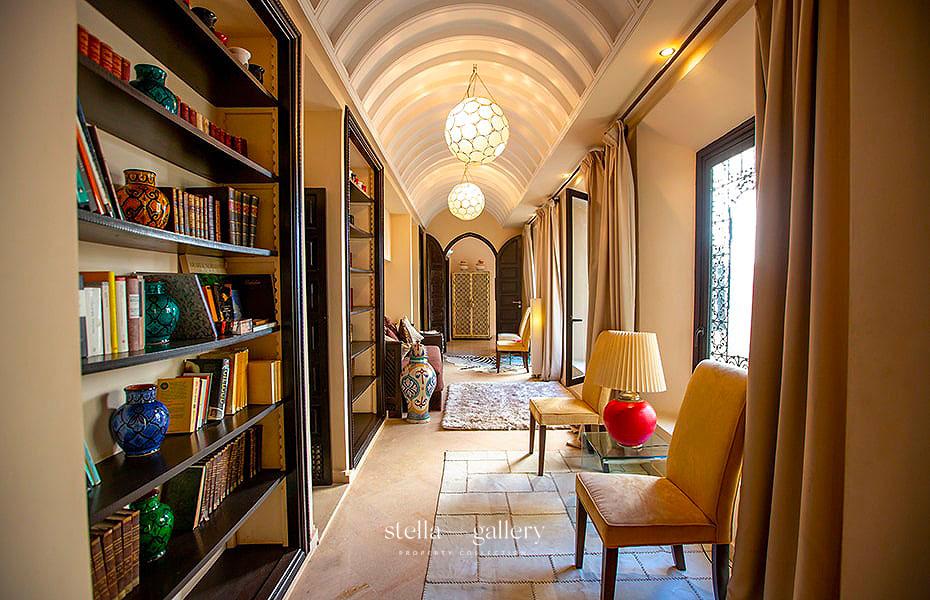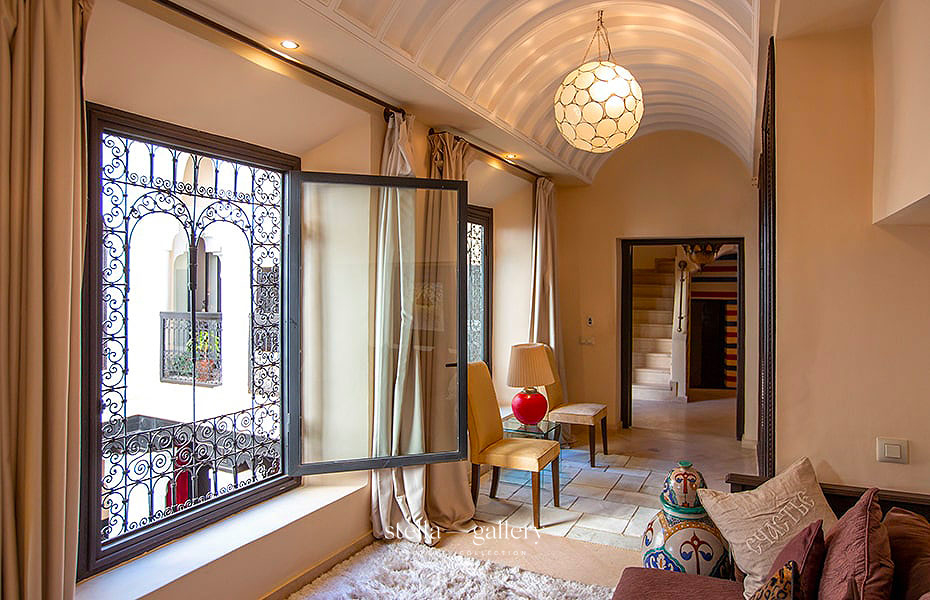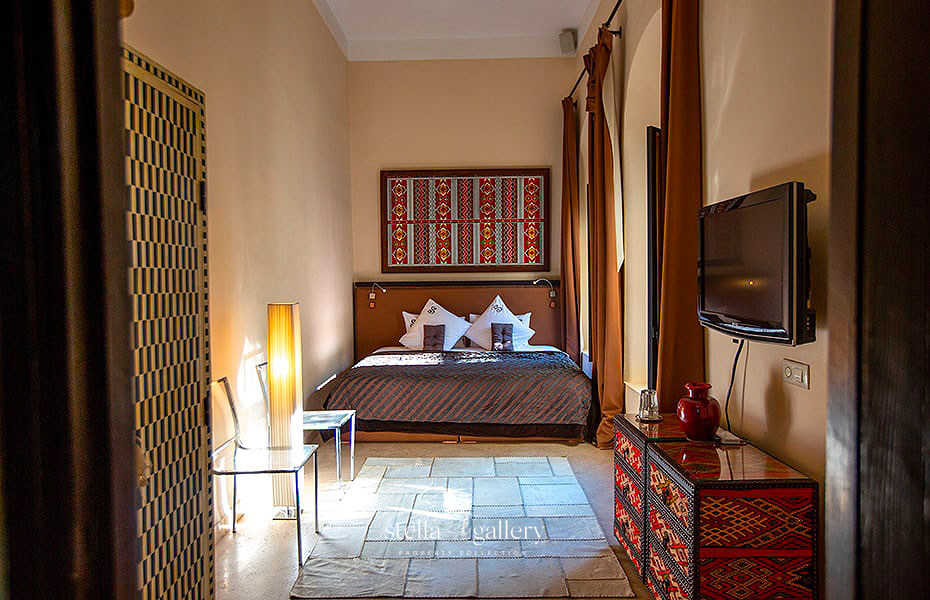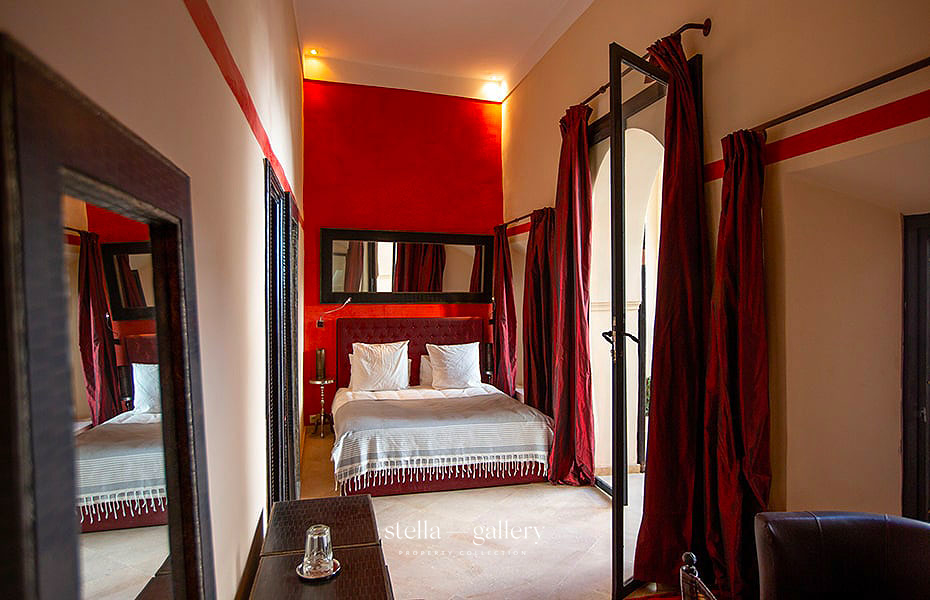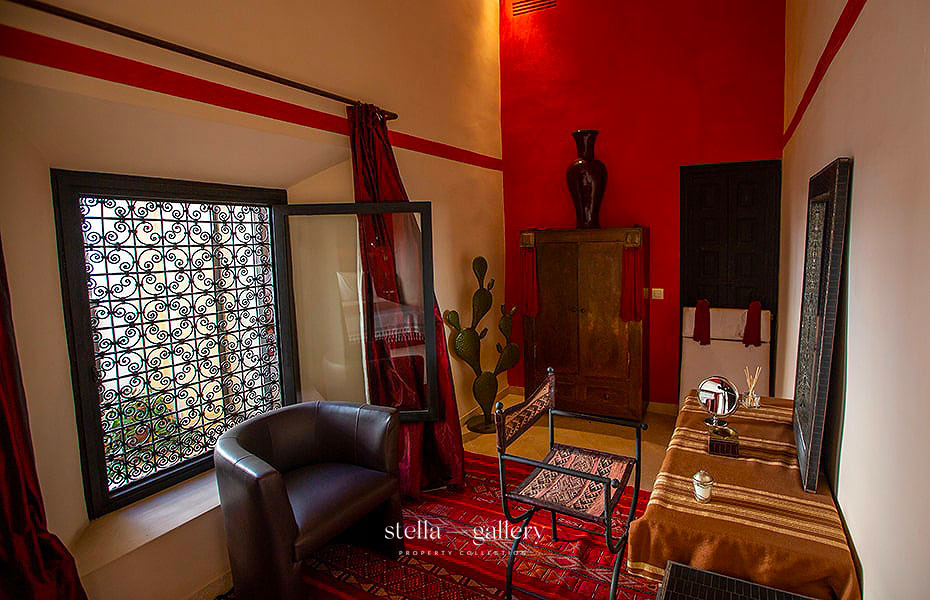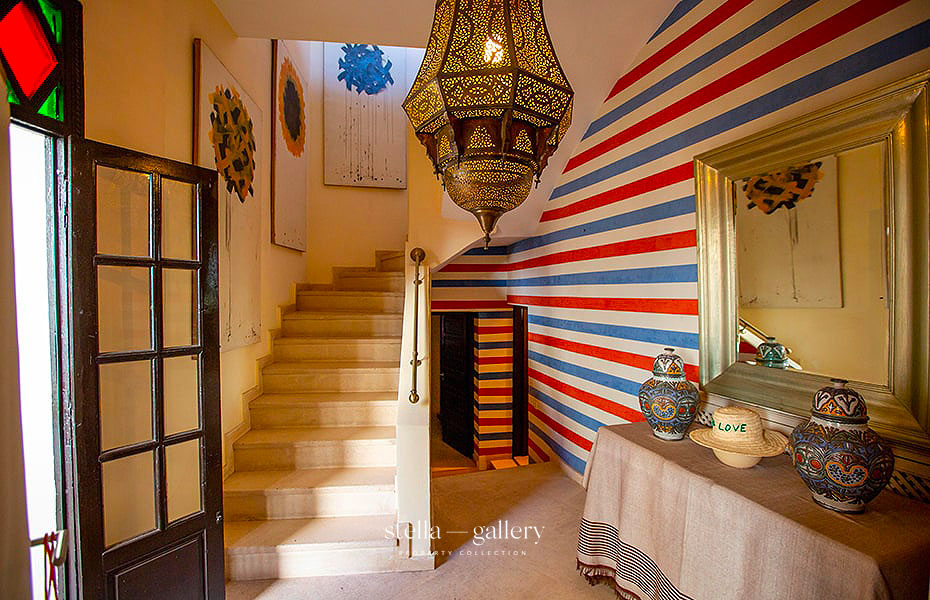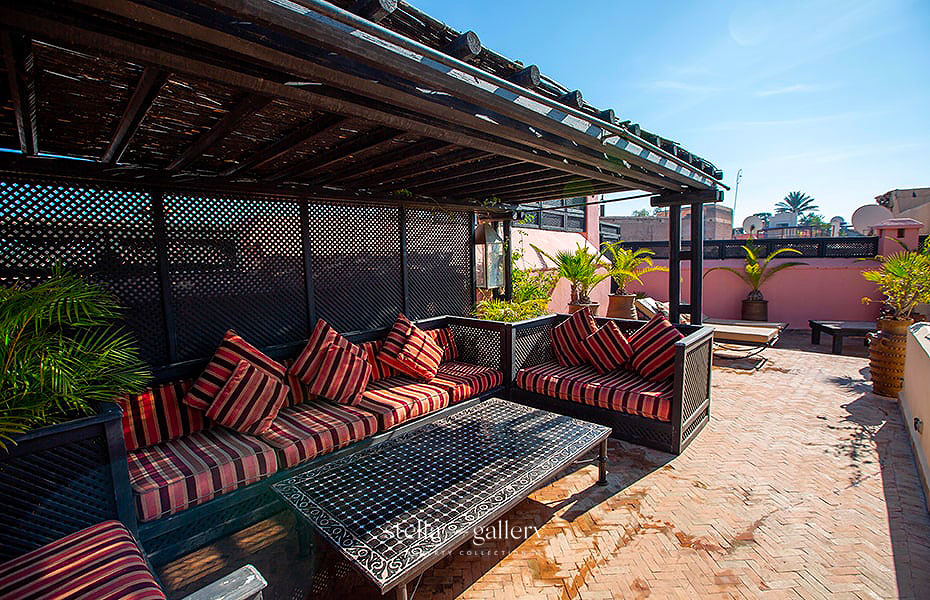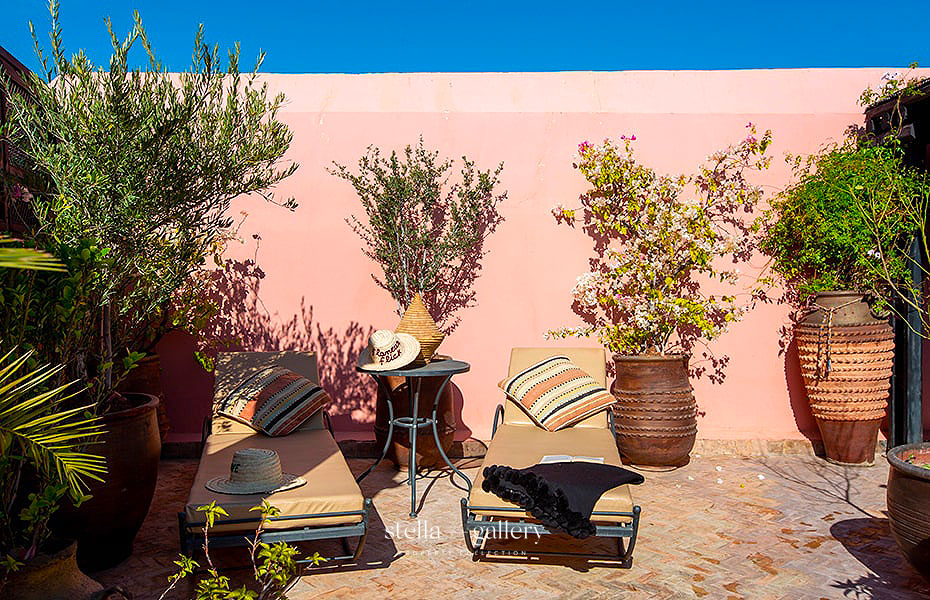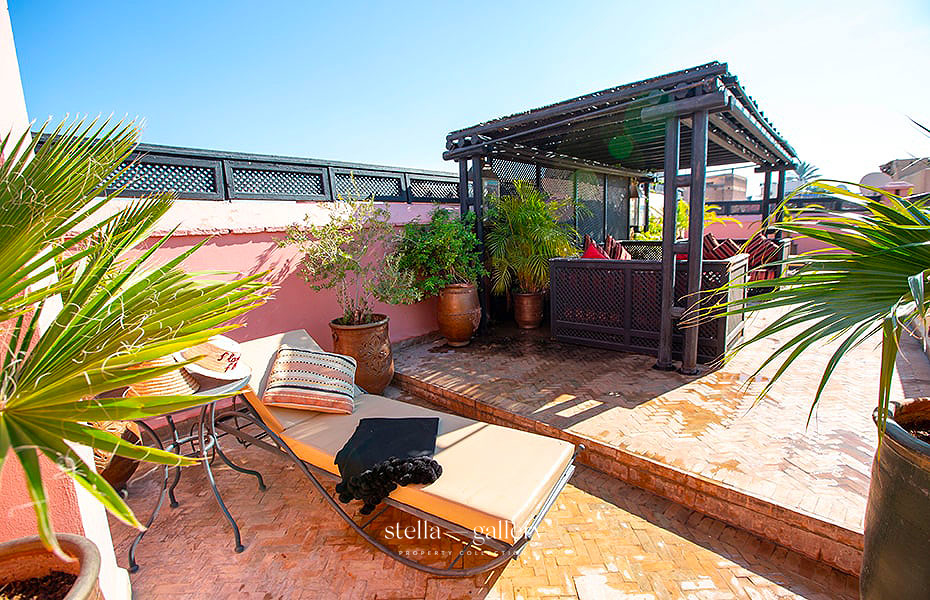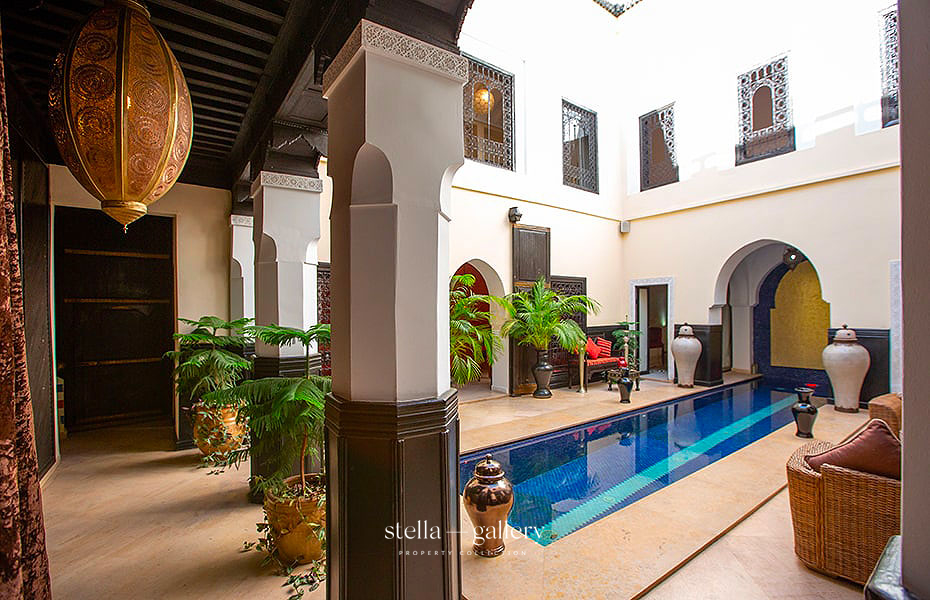 Riad M
This riad has the advantage of being perfectly accessible, the main entrance being located a few meters from the Mokef square, by road. The entrance is surprising and far from the riad spirit with its red quilted wall, color present throughout the riad. Yet once crossed, it is a wealthy riad that offers itself to visitors.
The central space with its imposing pool of water, 9 meter long, heated during winter times, covered with midnight blue zellige gives all its majesty to the place. Just like the natural light which pushes the gaze to rise towards the sky. A look that will first run along the tall columns of the patio, then those of the upstairs passageway.
The ground floor is dedicated both to idleness and to the reception of guests. In the patio, the swimming pool is surrounded by a small lounge to enjoy the blissful light of Marrakech and its mild weather, but also two major covered spaces for entertaining.
Here the decoration plays a daring Italian twist. On the program, fiery red and animal print. The dining room opts for the total red look: walls, table, chairs, Murano crystal chandelier. This atmosphere of a small Italian palace is reinforced by two Venetian mirrors.
Opposite, the long living room plays the same colors for a boudoir atmosphere, with a huge carpet and cushions in leopard prints, sublimated in the evening by a dim light and a multitude of framed mirrors. As an extension, the intimate fireplace, with its two armchairs facing the fireplace, invites you to confide in the secrets or simply to read a good book. On the left, in the L-shaped recess, another lighter lounge opens at the end of the blue pool for a soft and soothing atmosphere.
The first floor is quite unexpected for a riad. Completely refurbished, it offers incredible volumes. Thus, the master suite has a large sleeping area with a magnificent wall embellished with a triptych of gebs, including one with a cornice, as a headboard; a leopard print living room with fireplace; and, height of comfort, two bathrooms, of which one with dressing room and makeup area. This floor has two other suites and a living room and a library with curved gebs ceilings, bathed in light. These spaces are served by a passageway with wrought iron railings, cedar ceilings, tall columns. From there, the view of the patio is majestic.
As for the roof terrace, very large, planted with bejmat floors and protected from view by sectional views e moucharabieh, it offers a large dining room, a generous living room, both covered by a wooden pergola and several spaces for sunbathing.
2 small outdoor lounges
1 living room with fireplace
1 dining room with fireplace
1 kitchen
1 guest toilet
Mezzanine
1 bedroom with bathroom
1st floor
1 master suite with fireplace lounge, 2 bathrooms
1 suite with bathroom
1 master suite with its living room & library
1 lounge under pergola
1 dining room under pergola
1 solarium
Several sunny spaces
1 staff room
Technical
Reversible climate control
Central floor heating and radiator 
Pool heating by heat pump
Oil boiler
Location
Place Mokef, Bab Khmiss, Marrakech