stella—gallery
was born from the idea that ​​buying a house is like acquiring a work of art
Offering  its customers the unique means to acquire a house the way one would choose a work of art,  helping to define the personality of the homeowner and their space. This is the ambition of Stella-Gallery, a real estate agency of a new genre, born from the will of its founder, Stella de Bagneux, to bring together her two passions and fields of expertise. "This marriage sounded obvious. An exceptional property is often a beautiful architectural challenge. It is the realisation of an aesthetic aspiration. And how better to enhance it than by adding-on works of art gleaned on site?"
The Moroccan real estate market is very diverse, especially in Marrakech. Difficult to navigate in this heterogeneous offer where the worst can, for an untrained eye, put on the clothes of the best. As intransigent on the location of properties as on the quality of land, building materials and interior design, Stella opts for a voluntarily selective collection of properties and seasonal rentals. She also invites you to discover her artistic favourites and meet their creators. Naturally, so many reasons immediately convinced the international real estate expert, Knight Frank, to choose Stella—Gallery as its preferred agent in Marrakech-Safi region.
KNIGHT FRANK LLP, British company founded more than 120 years ago,is the leading independent global real estate consultancy with more than 18,000 people operating from 523 offices across 60 territories. As Knight Frank's preferred agent in the Marrakech-Safi region, we work in close collaboration with the Knight Frank network, the perfect balance between local knowledge and global reach.
Our missions:
Experience: A perfect understanding of your needs.
Exclusivity: A selective portfolio of the most beautiful residential products on the market.
Exposure: Optimal visibility of your properties via formidable market accessibility.
Efficiency: A tailor-made service and support at every stage of your project, from the acquisition to the management of the property.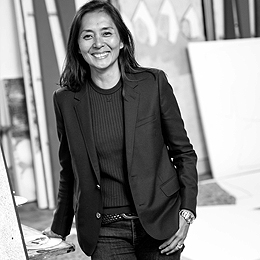 Stella de Bagneux
who are we ?
Originally from Mauritius, Stella de Bagneux moved to Paris to begin her higher education in management and commerce. She then joined Clarins, where she worked for 16 years, applying her client focused knowledge as International Marketing Director. After having been settled in Marrakesh for several years, Stella worked for 2 years as Head Spa at the hotel Royal Mansour – Best Hotel Spa in the World by Condenast Traveler 2017 – where she accommodated an exclusive clientele from around the world .
Stella's professional career path has naturally led her to utilise her perfect knowledge of luxury and high-end service into her own field of work, by bringing together under one roof, two of her passions : art and high-end real estate. Thus was born the agency, Stella-Gallery.
Moreover, as a mother of four children , Stella knows from experience how much a home should be adapted to everyone's individual needs, in a country where everyday life comes with some constraints. Stella's passion for business, flexible approach and  access to network of dedicated professionals, allows Stella-Gallery to offer the very best tailor-made service.