Marrakech - Road to Ouarzazate
Villa
450 m2
4 suite villa
Contemporary and warm decoration
Plot of 5000sq m
From 650 € the night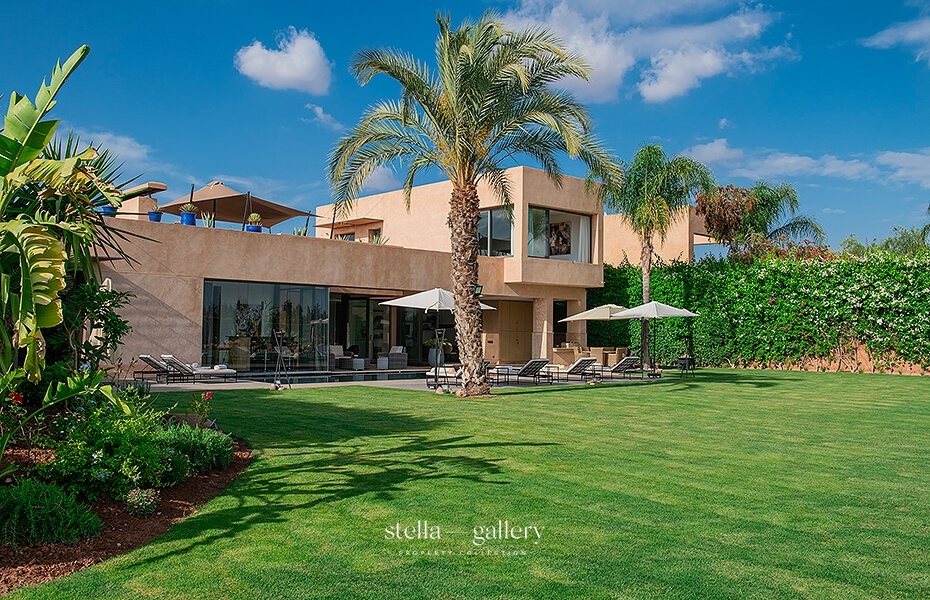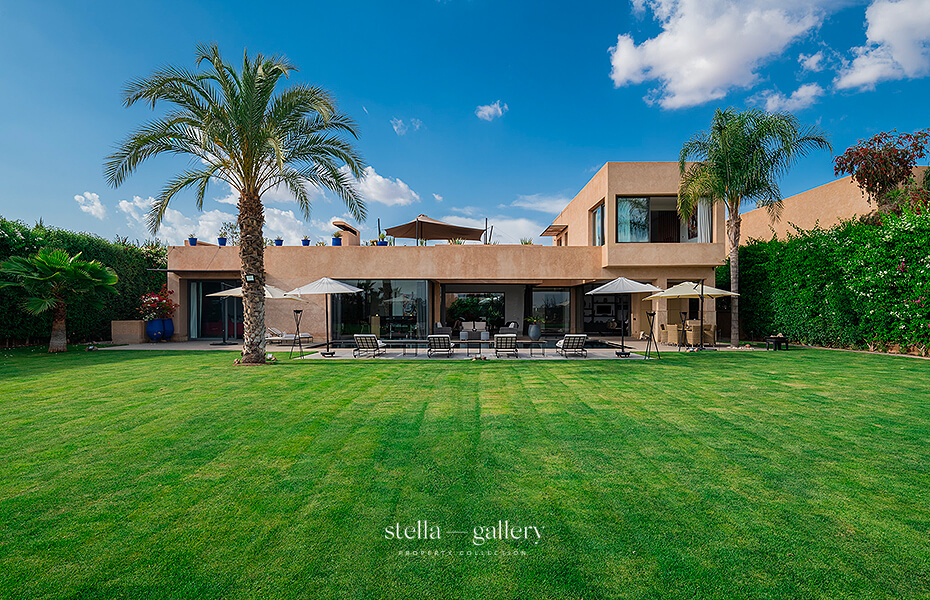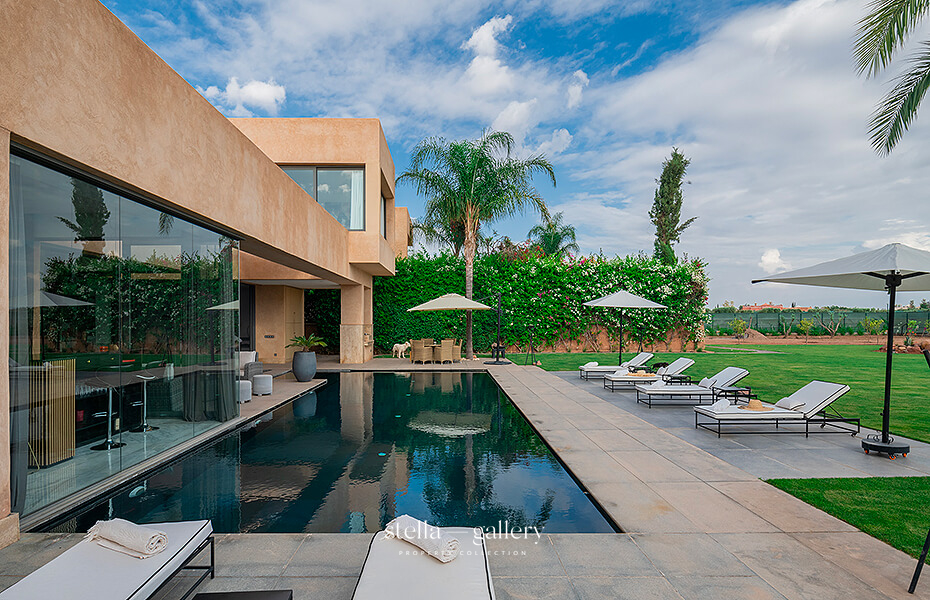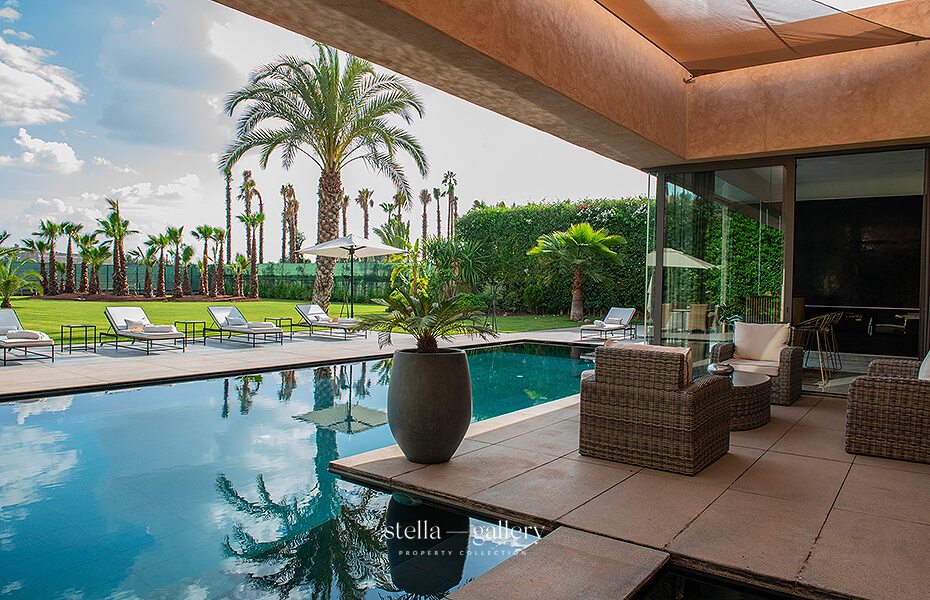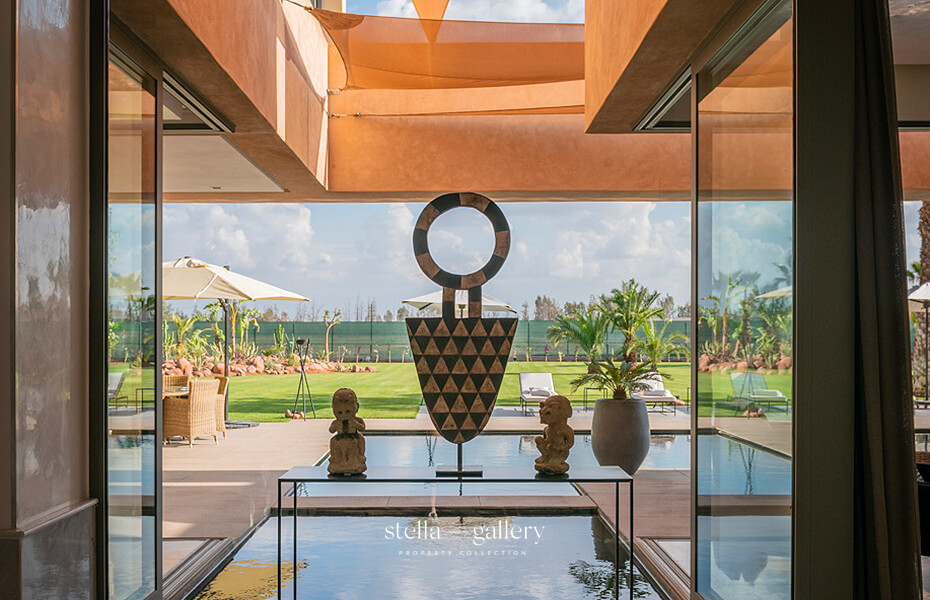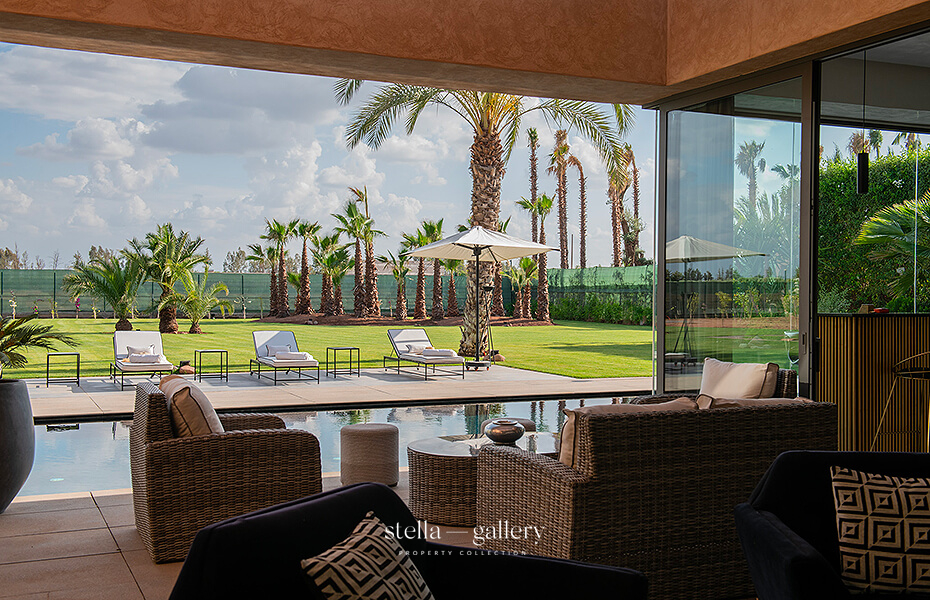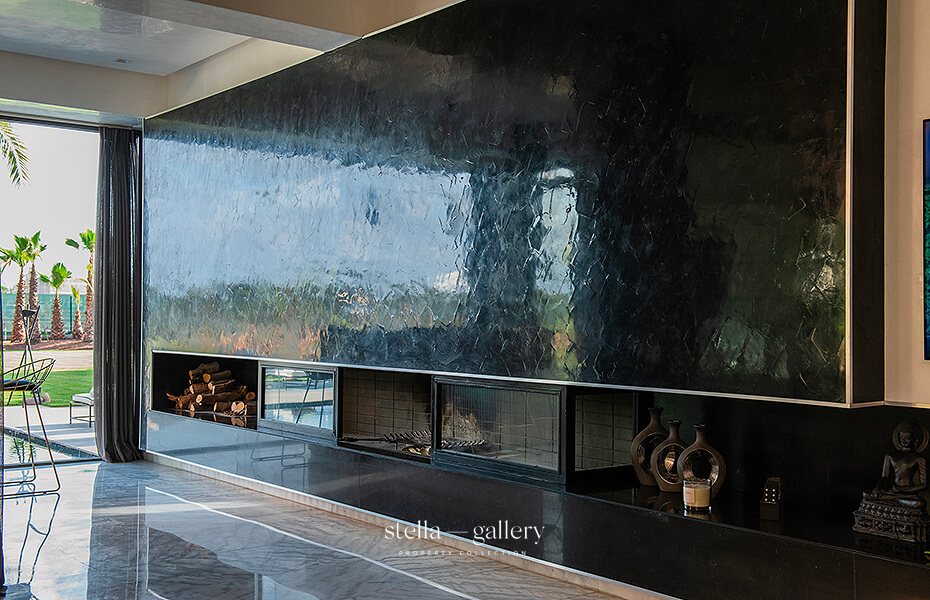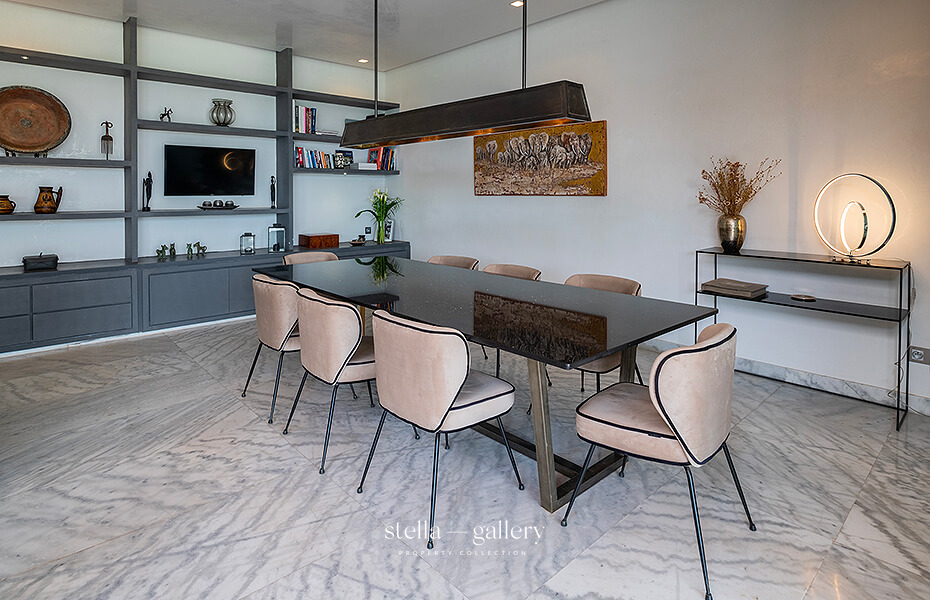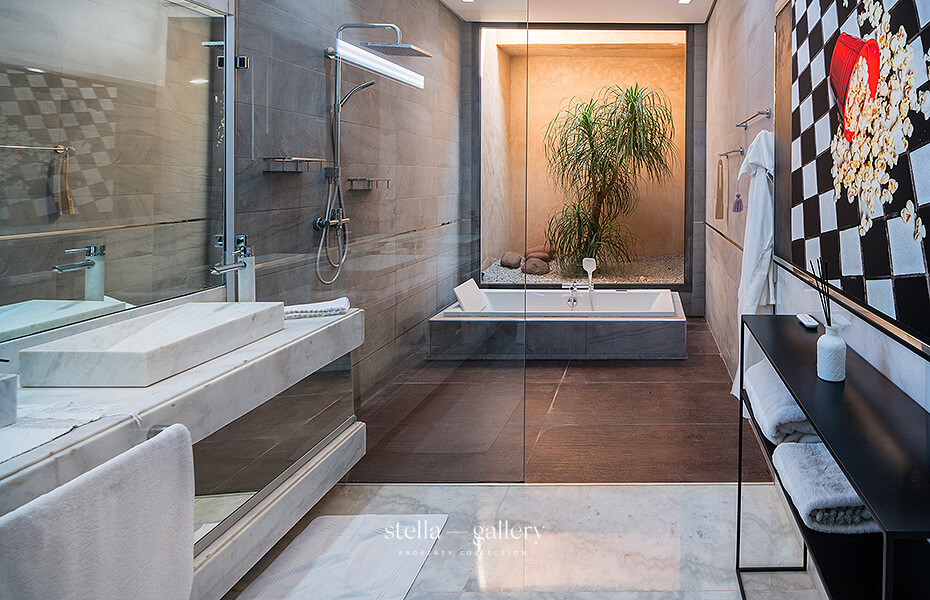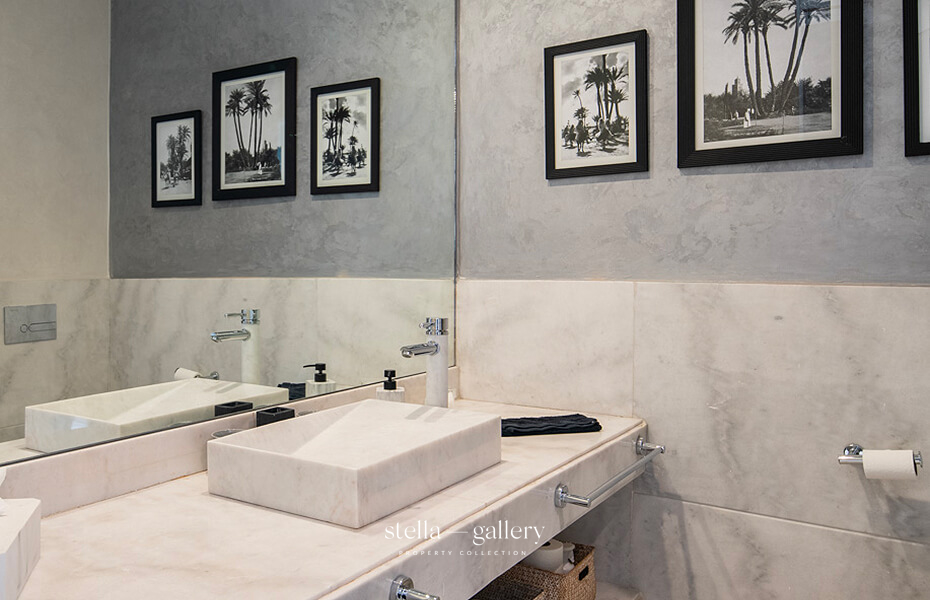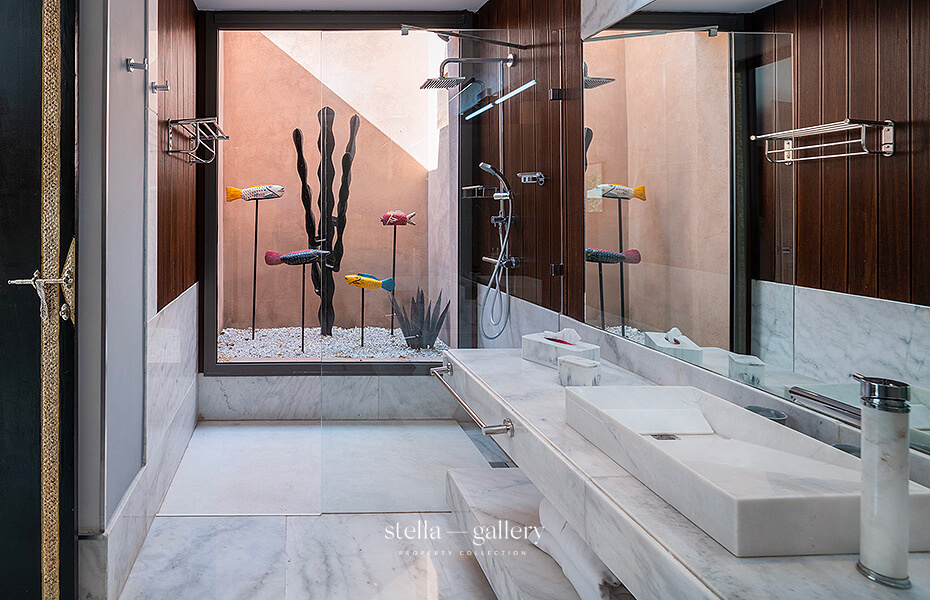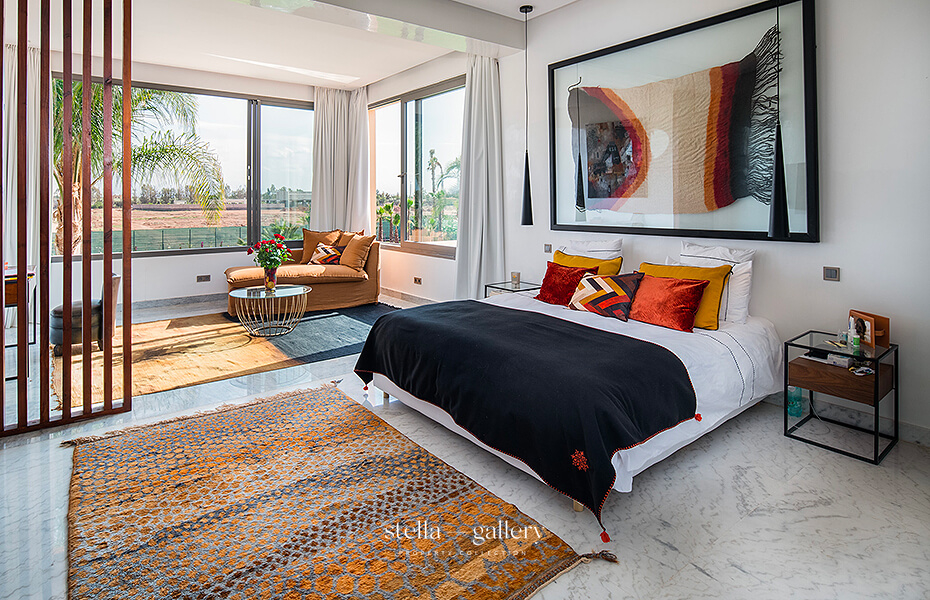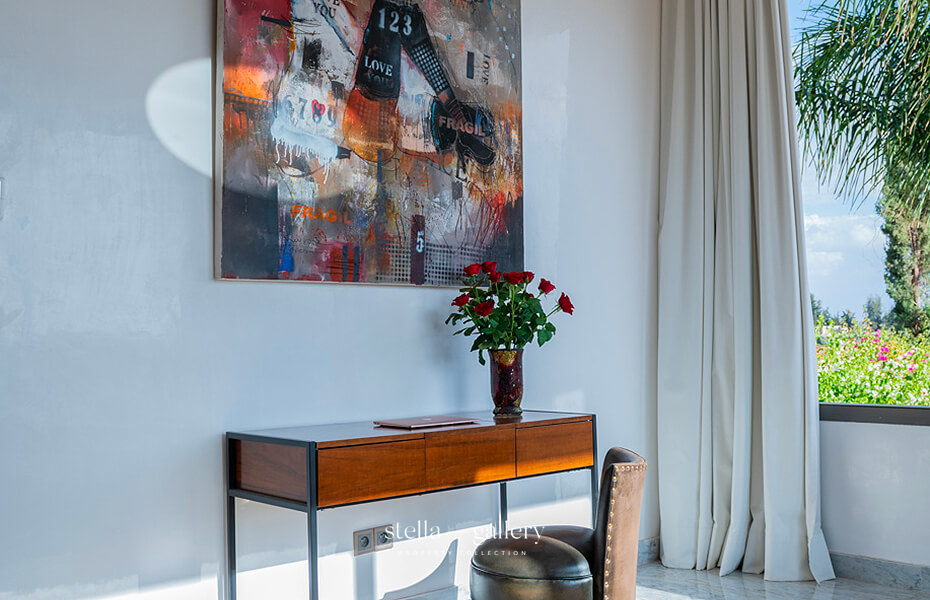 Dar SR
Located in a secure private domain composed of about twenty villas in the Ouarzazate road sector, Villa Dar SR meets the prerequisites of an elegant and comfortable villa for your next vacation in the ocher city.
On a human scale, this bright villa of 450m2 on a landscaped garden of 5000m2, is a perfect setting to invite you to experience a new art of living in Marrakech: beautiful shaded terraces, a beautiful volume for the living room-fireplace and the dining room, a panoramic terrace offering a breathtaking view of the Atlas Mountains, 4 beautiful comfortable suites including a main one located upstairs, a beautiful swimming pool in an impeccably maintained landscaped garden.
Combining optimal comfort and natural style, the decoration perfectly combines contemporary style with Moroccan-inspired touches to create a warm and modern atmosphere.
4 suites
4 bathrooms
Reception capacity : 8 adults and children
Plot of 5000sq m
Rental rates
• Price per night: from 650 € / night
• Low Season: 04 night(s) min. 650 € / night
• High Season: 07 night(s) min. 1200 € / night (New Year Holidays)

Minimum rental period: 7 nights
Availability on request
Main house : 450sq m
The villa comprises on the ground floor:
1 entry
1 living room of 80m²
1 dining room of 28m²
1 bar
1 guest toilet
1 large kitchen
1 small kitchen
1 staff studio with shower room and WC
3 suites including 2 masters (each suite has a bathroom, WC, dressing room and is equipped with TV and wifi)
1 patio with trees
2 equipped kitchens
On the 1st floor:
1 master suite
1 furnished terrace of more than 150m² with stunning views of the Atlas.
Equipment
Books
Outdoor pool
Living room and garden furniture
Pool deck chairs
Central air conditioning
Secure private domain
Pool and park maintenance
Hairdryer (1 per bathroom)
TV lounge
Technical description
Internet access (wifi)
Cable or satellite programs
Central air conditioning
Secure private domain
BENEFITS
Included in the rental
Permanent house staff:
Cook: Monday to Friday from 9 a.m. to 6 p.m. Saturday from 9 a.m. to 3 p.m.
Housekeepers: Monday to Friday from 9 a.m. to 6 p.m. Saturday from 9 a.m. to 3 p.m.
Gardener and pool attendant from 9 a.m. to 12 p.m. and 1 p.m. to 5 p.m. Monday to Saturday.
Hours of service for meals:
Breakfast: 09:00 a.m. to 10:30 a.m.
Lunch: 12:30 p.m. to 3:00 p.m.
Meal logistics: The steward will be in charge of the purchases relating to the stay of the tenants, a list of meals will be established ahead with the cook and will be communicated in advance to the tenants, a shopping list will be established according to their choices.
Groceries and gasoline costs are to paid by of the tenants.
With participation
Pool heating: from 50 EUR Per Day.
Preheating of the swimming pool : 2 days : 100 EUR.
Usual tip to staff.
Ironing of tenants' personal belongings.
Concierge service.
Airport transfer.
TERMS AND CONDITIONS
Booking
Down payment after receipt, and signing of rental agreement by STELLA-GALLERY: 50% of the total cost of the rent.
2nd deposit of 50% of the total cost, 40 days before arrival.
Method of payment for the down payments: bank transfer.
For extra services during your stay, the payment method will be cash on site (shopping, massages etc.).
Rental
The organization of events in the house is forbidden without the agreement of STELLA-GALLERY.
The staff prepares your meals.
The supervision of children is under the responsibility of the parents.
Non-fenced and unsupervised pool.
Check in 3:00PM
Check out: 12:00PM
A security deposit will be payable in cash or check in the amount of 3000€ or 30.000MAD at the entrance of the rental.
Whatever the duration of the rental, in case of damage exceeding the amount of the deposit, the costs will be borne by the tenant.
Cancellation
Any request for cancellation and modification must be made by email and the hourly reference will be that of the rental location.
The booking deposit is not refunded in case of cancellation
Cancellation of the rental less than 30 days before arrival: 100% of the total amount of the reservation is due to STELLA-GALLERY.
No show of the tenants the same day of the hiring, 100% of the total amount of the hiring will be due to STELLA-GALLERY.
Location
20 min from the airport. 20 mins from Jamaa El Fna square.